Cloud Based Phone systems are the only systems to integrate with Dentrix G5 and G6 software, the leader in dental practice management solution so you can immediately improve employee productivity and patient satisfaction.
Give your employees instant access to critical patient data with every incoming call
When your patients call, their entire profile is displayed, including the patient's name, contact information, age, appointment history, balance and treatment history so your staff can provide efficient and personalized service with every single incoming call.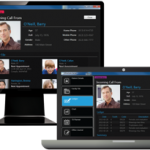 The most secure phone system for patient communications
The only 100 percent cloud-based phone system on the market offers optimal security by encrypting your patient calls from the handset directly into our secure network and ensuring nothing is ever vulnerable on-site.

Fast patient lookup and click-to-call functionality
Search for patients' Dentrix records and call them with one click– all from within the pop-up window.

Faster data entry in Dentrix G5 or G6
All the data you need to access in Dentrix is just a click away and all the notes you type into the journal are automatically saved in Dentrix, saving you even more time!